Transitioning from professional and commercial diving into the aerospace, engineering and defense communities took hard work and innumerable micro-failures.
By Mitch Acampora
As a boy I was fascinated with all things ocean. Jacques Cousteau was very much an idol, and in reading his many works I'd always look upon classic photos of him with his diving apparatus in awe. My family regularly frequented the beaches of Central California, primarily those from San Simeon Point, in Cambria, to Refugio State Beach near Santa Barbara. Aside from surfing, , I liked to look out over the water and picture what I'd see if all of it were instantly slurped up by a gargantuan vacuum – the sea life, the vast grade, the wreckage.
Having been involved in Scouting since Tiger Cubs at seven years old, it was a big thrill, then, finally getting to attend Camp Emerald Bay one summer as a Boy Scout. Nestled in a cove at the northern end of Santa Catalina Island – off the coast of Southern California – "EB" was a camp that revolved around the marine environment. I so vividly recall looking upon a group of actual SCUBA divers once I arrived and wanting nothing more in the world than to join them; however, due to the expense, it just wasn't doable and I gladly resorted to snorkeling among the kelp canopies in my spare time.
Fast forward some years to the summer of 2013, and I was now an Eagle Scout working at the camp as a Professional Association of Diving Instructors (PADI) SCUBA instructor and SCUBA merit badge counselor. The summer prior, I had been a PADI divemaster at the camp; prior to that, an oceanography merit badge counselor and collection diver for the camp's marine science center. The feeling was surreal, though – I was finally charged with introducing SCUBA diving to a sea of miniature versions of myself, from widely varying backgrounds and with wildly different personalities.
In one such group, there was an adult leader who seemed different. I believe I was tipped off, somehow, and came to find out it was an astronaut with two space shuttle missions and several EVA hours under his belt. Needless to say, I was absolutely enthralled, and we came to have several discussions during he and his boys' stay. Extremely humble and kind, it was during one such conversation that the man introduced to me the existence of a facility in Houston, where astronauts and the like conducted realistic training operations underwater. His three boys went on to earn their PADI open-water diver certification with me, and afterwards I was able to lead the four of them on a special dive to look at a sailboat that had recently sunk (ironically named "Extreme Snailing") there in Doctor's Cove. I maintained contact with this person beyond his troop's departure, trying to extract more information about this so-called "Neutral Buoyancy Lab" (NBL) and get myself there. He agreed to be a reference, and after a year of commercial diving education (and a greater volume of one-way emails to random NBL partners than I wish to disclose) I received the initial call.
Santa Barbara City College's Marine Diving Technology program was equal parts affordable, challenging, and rewarding. In large part due to the outstanding instructors, it was here that I absorbed a wealth of knowledge regarding largescale pressurized life-support systems, operational logistics and risk management. I graduated the program with honors and was selected as the outstanding class graduate (Ramsey Parks memorial award recipient) by the staff.
Before I accepted the offer from the NBL that followed the initial phone call and several phone interviews, I worked as a diver and tender for a local engineer-diving firm located on the Central Coast. The company specialized in performing underwater structural condition assessment for marine oil terminals in accordance with Marine Oil Terminal Engineering and Maintenance Standards (MOTEMS). I enjoyed the meticulousness and importance of aiding the team PE with preemptive inspection of concrete piles, as well as the notetaking I was to perform when topside.
When I first arrived at the NBL in September of 2014 as a dive operations specialist, I began working in the Logistics and Manufacturing Facility (LMF) building International Space Station mock-ups for use during the Extravehicular Activity (EVA) training operations performed there. Before long, I was selected to begin training as a diver supporting these operations most directly, and progressed through the training echelons of camera diver, safety diver, and utility diver. With each of these roles came increased and accumulated responsibility that the preparedness instilled in me at an early age via Scouting – and reinforced in previous the professional diving capacities I assumed in my adult life – complemented rather well. With such large-scale operations, the effort of one individual could certainly impact the operation's (i.e., test) flow, and there was a constant, global awareness necessary to prevent one from inadvertently becoming the bottleneck. Bear in mind that divers at the NBL facilitate all planned underwater activities; they are the "boots on the ground" that simultaneously regulate the astronaut (i.e., subject) state of health, their operating needs and risk level.
As I began to get to know astronauts, engineers, technicians and the like at Johnson Space Center, I was motivated to become more. I applied for, and was ultimately accepted to begin training as an Environmental Control System (ECS) operator in charge of (among other things) setting up the life-support systems for the daily suited-subject operations and monitoring associated feedback and metrics throughout the entirety of the event. Concurrently, I earned a Bachelor of Science degree in mathematical science and became interested in learning more about the other major human interface in the system – the space suit. Although the suit is not 100% flight like, it is more or less a perfectly acceptable analog (most of them having been decommissioned from flight use) and I was drawn to the capability it provided as a (relatively) modern engineering marvel.
I soon accepted a position as a project and test engineer at the NBL, with another contract partner, and was able to absorb a great deal of information regarding the pool and flight configurations of the space suit (i.e., Extravehicular Mobility Unit (EMU)) and space tools (i.e., EVA Tools and Crew Aids (ETCA)). Supporting the same events I supported previously as a diver, as an engineer, was very rewarding and gave me a very valuable, additional perspective.
While working as an engineer I attended and completed graduate school at night, earning a Master of Science degree in systems engineering, and was selected by the program chair as the top student in my graduating class. The cradle-to-grave outlook of systems engineering was very appealing and I (as anyone reading this also could) found many instantiations of systems engineering efforts in my work environment, and those past. Although with commercial diving normal operations may solely include inspection, demolition, maintenance and repair, such activities are all in accordance with various phases of the System of Interest (SoI) lifecycle (e.g., retirement of an oil rig jacket). In fact, I focused my course projects and papers largely on aspects of commercial diving and physical oceanography: I presented an approach for optimizing a COTS Submersible Diving Chamber's (SDC) on-board gas supply for associated commercial sub-sea operations; conducted (break-even) analysis to compare the short-term economic attractiveness of open- versus closed-circuit diving systems; and even applied mathematical queueing theory and associated concepts on a surfing line-up as a discrete event system.
Not long after completing my master's degree, I was offered another federal contractor position on a Department of Defense (United States Space Force/United States Air Force) contract as a risk analyst for the nation's launch ranges, which led to accepting a senior systems engineer position supporting the Western Range at Vandenberg Air Force Base. As the number of space-based endeavors (and associated interest) continues to climb, it is an exciting opportunity to remain an active participant in the aerospace industry.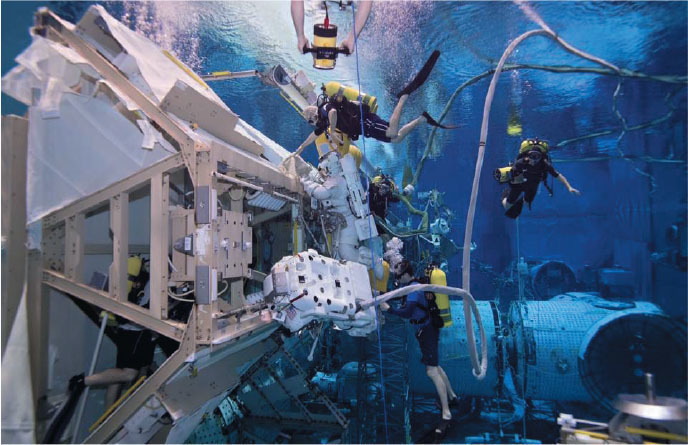 Transitioning from professional and commercial diving into the aerospace, engineering and defense communities involved some hard work, long nights and innumerable micro-failures. Although currently not diving for pay, my passion for working-diving has never left me and it shaped the professional I am today. My goal is to come up with a means to ultimately work in a capacity that highlights the breadth of applications for professional/commercial diving via further bridging the divide between underwater operations, aerospace and exploration.
Have any questions for Mitch? Please reach out to him via email at mitchacampora@gmail.com.